VistaPDB
VistaPDB is a free, stand-alone program for biologists to analyze 3D Protein and DNA structures in the form of PDB files.
---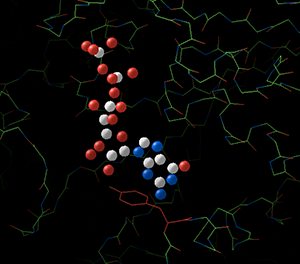 Model Types
Stick.
Ball and Stick
Space Filling
Ribbon
Surface
Easily modifiable model preferences allows users to modify color, resolution, and much more...
Models
Rotation and translation tools make analyzing models easy. Move the rotation of origin to rotate models around a different point.
Measure molecular distances.
Add new models via layers.
Split co-crystal structures into self-rotating models.
Animate models and record movies.
Alignments
Align sequences via pairwise or BLAST1 algorithms. View the alignments in the 3D viewer to analyze similarities and differences.
Files
Currently compatable with PDB files only.
Save customized models as a PDB formatted file.
Other tools
Search and download1 PDB Files on the fly.
Comprehensive 3D amino acid and nucleotide reference.
Comprehensive selection tools to select residues by type, location, and proximity.
---
1 BLAST and Entrez tools are based upon third party support from National Center for Biotechnology Information. Please treat this resource with respect - abuse can result in rejection of searches and queries by NCBI.